Free upkot coaching & workshops...
Image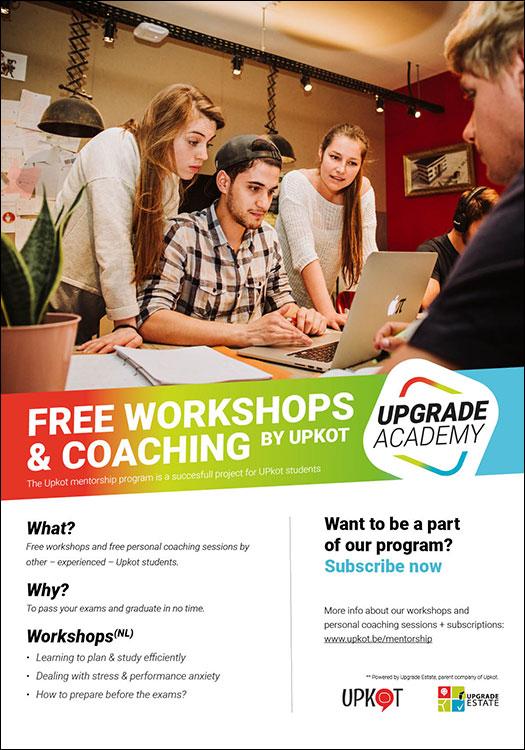 The details
The beginning of a new semester also means the start of the mentorship program of Upkot and Upgrade Academy.
"This mentorship program gives more experienced Upkotters the opportunity to guide other students throughout their student life.
It's great to be able to accomplish this within Upkot. It enlarges the commitment between the students and it stimulates their sense of responsibility."
– Nele Van Damme, CEO Upgrade Estate
We strongly believe our students have a lot of expertise. At this moment, the opportunity presents itself to start sharing experiences and knowledge.
We developed this program to offer the chance to our students to get support of an "Upmentor" and/or to become the best UpMentor one can be.
Mentorship Program… What?
Upkotters who are interested to receive coaching will be introduced to an UpMentor from the same building.
This UpMentor will provide personal and/or study guidance.
Upkotters can also follow several workshops with tips & tricks about different subjects such as dealing with stress,
planning and organizing and preparations before the exams.
Practical & subscriptions
Do you want to become a part of the Upkot mentorship program?
Do you want to follow one or more free workshops?
Check the dates and places of our workshops in 2020 and scroll down to sign up!
3rd of March, 19h: workshop Planning and Organizing
24th of March, 19h: workshop Stress and Performance Anxiety
April 2nd, 19h: workshop Exam Preparation
Place to be: Burggravenlaan 31, 9000 Ghent
Fill in this form & we'll get back to you soon: